Termokoblerstikdåser til montering på trykt kredsløb
€32,87 PCC-SMP-J-5
New printing on connectors, please see description for details
Sættes direkte på det trykte kredsløb ved hjælp af den medfølgende monteringsclips
Perfekt til håndholdte termometre
Termokoblertype J, K, T, E og ukompenseret
Termokoblertype N fås med ministik
Ministik monteret vandret eller lodret
Holdeclips til TO92-transistor til kompensation for cold-junction fås som ekstraudstyr.
Modeller for termokoblerstik i standard- eller miniaturestørrelse
Monteringshuller & Mål er angivet nedenfor
Termokoblerstik og panelsystemer - Vis relaterede produkter
Beskrivelse

Two sizes of Omega PCB mount thermocouple sockets are available, to mate with either standard or miniature size thermocouple plugs. The miniature size is available in either horizontal or vertical mounting style. The PCC is also available with an optional transistor retainer clip, see image below. The clip accepts TO-92 style transistors for cold junction temperature measurements at the transition from thermocouple alloy to copper wire.


| Dimensions | | Optional Retainer Clip |
| --- | --- | --- |
| | | |
Examples of pricing for popular models is referenced in the "To Order" box. Use the "Part Number Builder" below to get pricing for all available models.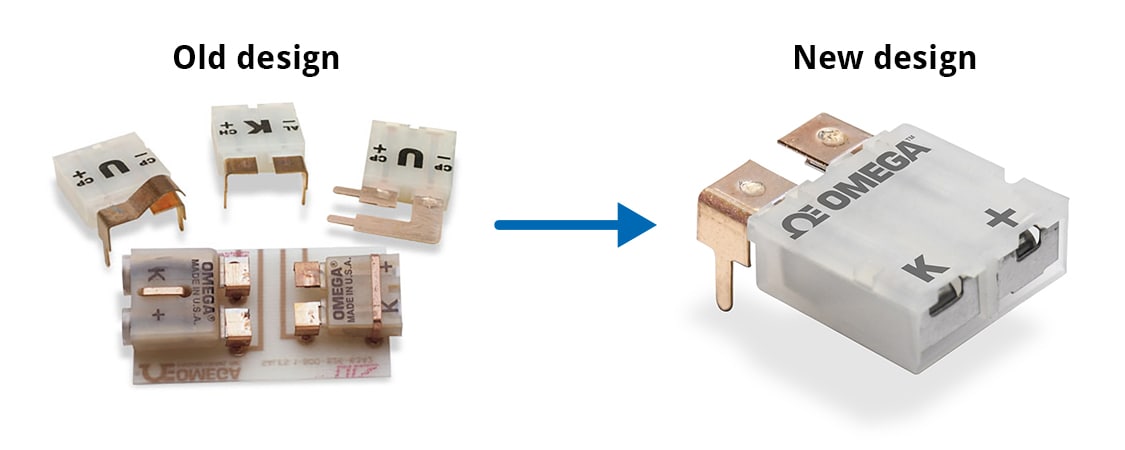 † All amounts shown in EUR

Noter: PCC-OST is available only in packages of 100.

Delnummerberegner
Build Your Part Number Below
Beskrivelse af tilvalg:
(1) Connector Size
select from:
SMP
for Miniature flat pin
OST
for Standard round pin
(2) Mounting Style
select from:
Nothing(leave field blank)
for Horizontal Mounting
-V
for Vertical Mounting (SMP mini style only)
(3) Thermocouple Type
select from:
U
for Uncompensated (copper)
J
for Type J
K
for Type K
T
for Type T
N
for Type N (SMP mini style only)
E
for Type E
(4) Pack Quantity
select from:
5
for Pack of 5 - SMP only
50
for Pack of 50 - SMP only
100
for Pack of 100
(5) Optional Transistor Mounting Clip
select from:
Nothing(leave field blank)
for No Clip
-R
for TO-92 Style Transistor Retaining Clip
Noter: Ikke alle kombinationer er nødvendigvis gyldige. Se specifikationerne for gyldige delnumre.