The Layer N SP-010 Load Cell Smart Probe provides an easy way to integrate your bridge devices to the Layer N Ecosystem. The SP-010 accepts 4-wire bridge sensors through its M12 4-pin connector and Layer N Smart Interfaces through its M12 8-pin connector. The M12-S-M-FM accessory connector can be utilized to easily connect wire leads to your SP-010.
The SP-010 determines the bridge impedance and applies an optimized pulsed bridge excitation current during measurements to minimize self-heating effects. The bridge voltage is then used to determine the applied force using bridge characteristics provided by the user.
A 2-point linearization correction may be applied with the ability to capture the measured values. TARE weight adjustment can be triggered through software or external switch closures.
Intuitive Configuration
Configure your Layer N Smart Probe using SYNC's intuitive configuration interface. Additionally, an integrated command line interface allows for quick serial setup of your Smart Probe and Smart Interface using standard terminal emulators.
Edge Control and Built in I/O
The Layer N SP-010 features 2 configurable digital I/O pins. These can be used for a myriad of applications including driving relays, physical alarms, or sensing dry contacts like door switches. The SP-010 can also be utilized as an edge controller, with autonomous independent decision-making capabilities to generate local alarms or provide control outputs based on sensor inputs.
Smart Core Enabled
Smart Core is integral to all Layer N Smart Probes. This powerful suite of advanced features enable plug and play connectivity, alarms and notifications, data assurance, data logging, and storage.
Smart Interface Modularity
Customize your Layer N Ecosystem with modular Smart Interfaces that connect and transmit data from your Smart Probe to the Layer N Cloud.
Your Data at a Glance with Layer N Cloud
Layer N Cloud consolidates and brings your data to you when you need it, wherever you are. The intuitive cloud interface allows you to monitor and store your data, set alarms and alerts, and provides insights on device activity. Visit the OMEGA website for more details.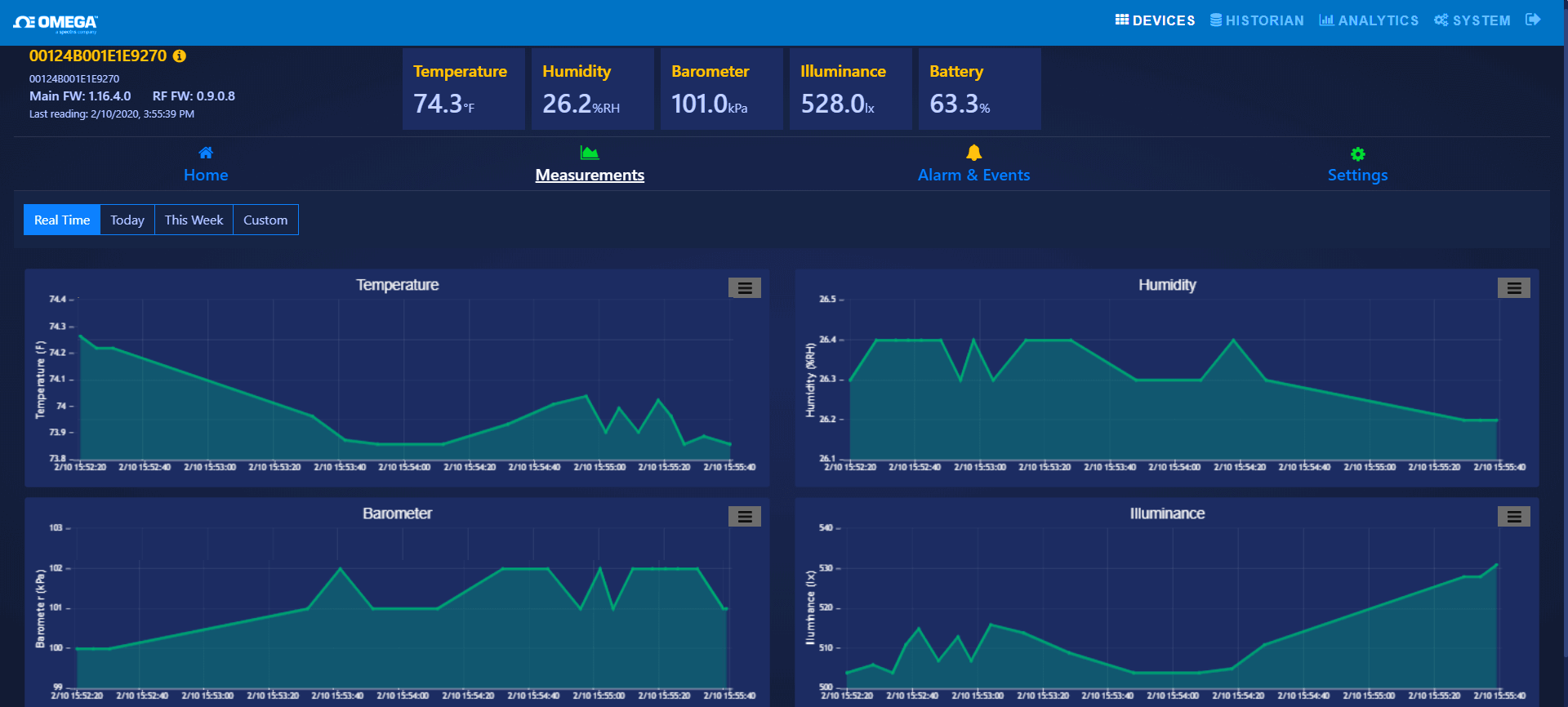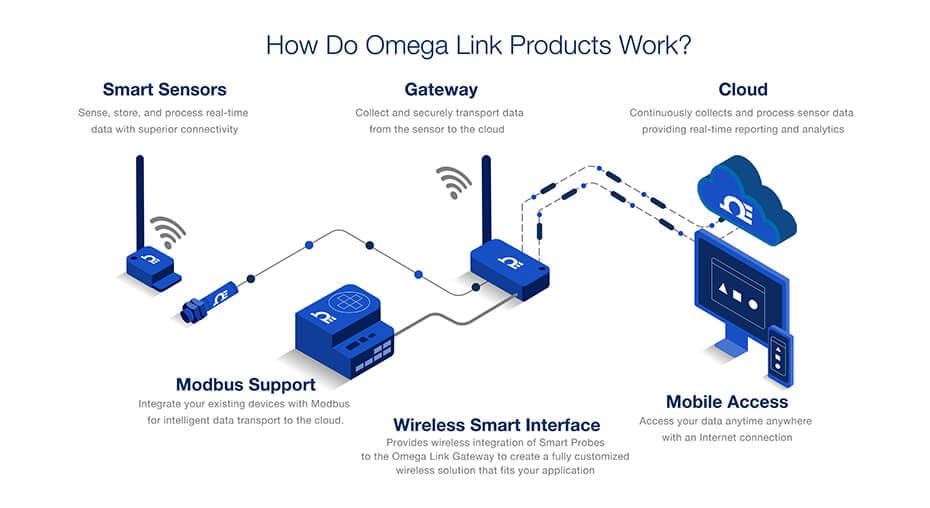 Specifications
INPUT POWER


Voltage: 2.8 VDC - 3.3 VDC

DIO DIGITAL INPUTS


VinHighThreshold= 2.2 VMAX
VinLowThreshold= 0.3 VMIN
VinMAX= 30 VDC

DIO DIGITAL INPUTS


2x Open Drain 100 mA max
VMAX= 30 VDC

MEASUREMENTS


Supported Strain Gauges
Bridge Sensitivity: 1 to 15 mV/V
Bridge Resistance: 250 to 15000 Ohm
Accuracy
Linearity Error: ±0.03% FSO
Thermal Error: ±0.005% FSO/C


ENVIRONMENTAL


Operating Temperature: -40 to 85℃ (-40 to 185℉)
Rating: IP67 when mated

MECHANICAL


Dimensions: 22.1 mm W x 96.7 mm L (0.87" x 3.80") not including mounting tabs

GENERAL


Agency Approvals: CE, EMC 2014/30/EU, LVD 2014/35/EU
Compatibility: Compatible with OEG, SYNC configuration software, Layer N Cloud, and Modbus Networks


M12 4-Pin Wiring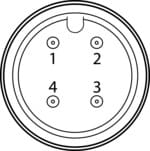 | Pin | Name | Function |
| --- | --- | --- |
| Pin 1 | Exc - | Excitation return |
| Pin 2 | Sense + | Bridge Output |
| Pin 3 | Sense - | Bridge Output |
| Pin 4 | Exc + | Bridge Excitation |
M12 8-Pin Wiring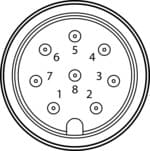 | Pin | Name | Function |
| --- | --- | --- |
| Pin 1 | DIO 0 | Discrete I/O Signal 0 |
| Pin 2 | INTR | Interrupt Signal |
| Pin 3 | SCL | I2C Clock Signal |
| Pin 4 | SDA | I2C Data Signal |
| Pin 5 | Shield | Shield Ground |
| Pin 6 | DIO 1 | Discrete I/O Signal 1 |
| Pin 7 | GND | Power Ground |
| Pin 8 | 3.3VDD | Power Supply |
Layer N SP-010
| Model Number | Description |
| --- | --- |
| SP-010-1 | Load Cell Smart Probe with discrete I/O |
Layer N Smart Interface
Layer N Smart Probes require a Layer N Smart Interface to operate and connect to your Layer N Ecosystem. There are both wired and wireless options.
| Model Number | Description |
| --- | --- |
| IF-001 | USB Smart Interface |
| IF-002 | RS485/Modbus Smart Interface |
Accessories
An optional M12 4-pin screw terminal adapter is available for users who wish to connect wire leads directly to the SP-010-1.
| Model Number | Description |
| --- | --- |
| LCKD | Subminiature Load Cell with Rugged Industrial Design |
| M12-S-M-FM | M12 4-pin screw terminal adapter |
| M12.8-T-SPLIT | Smart Probe M12-8 pin shielded T-Splitter - enables access to I/O pins |
| M12.8-S-M-FM | M12-8 pin Straight Plug Field install connector with screw terminals |
| DM12CAB-8-1-RA | 1m (3.3') cable dual M12-8 connector, right angle terminator |
| DM12CAB-8-3-RA | 3m (9.8') cable dual M12-8 connector, right angle terminator |
| DM12CAB-8-5-RA | 5m (16.4') cable dual M12-8 connector, right angle terminator |
| DM12CAB-8-1 | 1m (3.3') cable dual M12-8 straight connector |
| DM12CAB-8-3 | 3m (9.8') cable dual M12-8 straight connector |
| DM12CAB-8-5 | 5m (16.4') cable dual M12-8 straight connector |